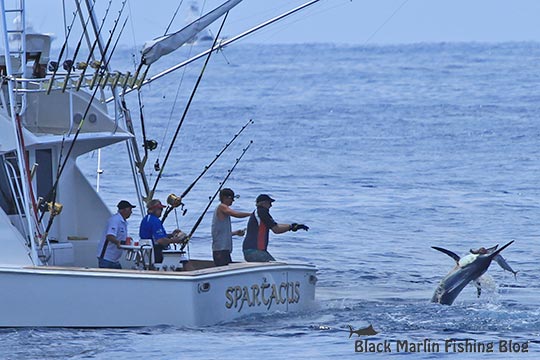 Well the Lizard Island Black Marlin Classic for 2011 has drawn to a close and tournament winners Askari, who romped away from the rest of the fleet with three days to go, can be forgiven for starting the celebrations early reporting their Persons On Board for Day 7 as "7 hangovers". Adding one final fish on Day 7 at 450lbs to Ray, they could not be beat with a total of 16 tags altogether, the highest number of tags for a winning team for many years (since 2001? anyone?), and this fish also cemented the Champion Male Angler award to Ray Camilleri with 11 tags for him personally.
Little Audrey survived a last minute fish from the team on Top Shot to hold onto the runner-up trophy with 10 tags. This is a great effort for the 23 year-old skipper and his team. Upon reviewing their footage, they have upgraded the size of one of their fish and submitted an application to the Lizard Island Thousand Pound Club for Ken Klein. Interestingly, the Klein family had a hand in both the victory and the runner-up awards. Daniel Klein, who is a bit of a big fish magnet if you ask me (!) on deck for Capt. Corey Hard on Askari and father Ken, angling on Little Audrey. Congrats guys — great effort!
Tournament regular Tomonori Omi, made a late run but were just pipped into third place on Top Shot. They were followed by Kanahoee on 9, with Capt. Chris "Sharky" Miles making his usual late charge at the leaders. All their nine tags were to Champion Female Angler Amanda Thompson and included two spectacular fish for her at 950 and 850lbs. Hellraiser overcame their day 1 handicap to take 5th place with 8 tags and made it a family affair, 4 for Larry Curtis, 2 for Danny Curtis, 1 for Brad Curtis (leaving us to wonder just who was working on deck!?!) and one for John Smith.
Viking II's Junior Angler Connor Craven tagged all 8 of their tags to put them into 6th place and giving him second runner up Champion Angler. Capt. Tim Dean's Calypso came in 7th with 8 tags for the tournament for first time Lizard anglers Craig and Robert and listen to the size of them…1100, 950, 700, 600, 500, 250 250, 200…!! What a week!
The top 10 standings were rounded out by Hot Shot in 8th place with 7 tags, Spartacus (photo) in 9th also with 7 and Hattitude on 5. Tradition finished in 11th with a runner up for Lydie who I'm sure is still glowing after her 1103lb black marlin outside of tournament hours Friday night. Lydie has released over 40 marlin over the past 6 years fishing the reef, a great lady angler!
There are many big fish stories from the week still to come so more stories and reports should trickle in.  Stay tuned.
Day 7 saw only 8 fish tagged for the shorter day's fishing (11-4pm only on the final day). A shoutout to the team on Reely Black who tagged two on the final day to give them the daily award.  They had been fishing in the same area as Askari for many days and were the self-proclaimed champions of 'watching Askari catch fish' but although they had many chances during the week, couldn't keep the hooks in. They made up for it yesterday for the daily!
Gold Coast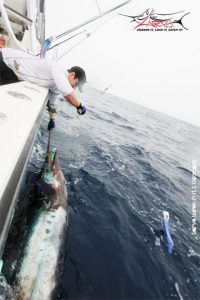 Team Larva fished a half-day session off the Gold Coast Saturday.  With the Larva Lures smoking behind, they hooked up early to a big blue marlin. 1.5 hours later, the fish, estimated at a massive 800lbs was tagged and brought alongside for these photos before the release. (Caught on a 12″ Larva Tongariki Ash with an aqua skirt colour and a flat head attached, using a single hook rig Jobu hook.)
Gold Coast locals will know that conditions yesterday morning were less than ideal with a big storm sending the kids and pets alike running into the big bed with mum and dad all along the coast in the early morning. Angler Ron did a great job with the storm raging on around him complete with lightening!
They also backed it up with two nice big yellowfin tuna (estimated at 75 and 45kg) and were still home for lunch as planned. What a day!
Sunshine Coast
Thanks to Capt. Rob "Smithy" Smith on Triton IV for the tournament report from the Sunshine Coast GFC's Spring Shootout.
President Brent Higgins held on to win from his 20′ centre console Seahunt Walk The Line who tagged a 250lb blue marlin on Day 1 Friday.  Brent's fatehr Barry Higgins was angler and Peter Bain came out of retirement to tag the fish.  Brent used to crew for Pete  on Pacemaker and had a lot of tournament success together in SEQ so it was very good to see the old team back together and still winning!
Brett and Gary Barton's Grady White Spot On as sponsor boat with the Kawana Telstra Shop boys aboard weighed in three line class longtail tuna to claim second place, one being 19kg on 8kg line class for Cameron George.  Capricorn came third with a weighed spanish mackerel for junior angler Ryan McKinnon.
It was unfortunately very quiet on the billfish front with only a couple of other blue marlin seen and some missed bites light tackle with non line class tuna the main species being caught all weekend.  The bait was starting to form up after the big storm went through Saturday morning so hopefully it all happens in the next week or so.