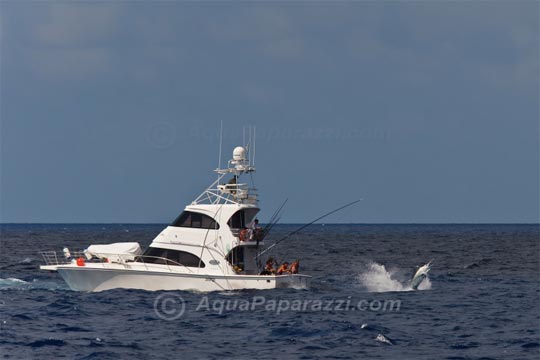 I finally had the chance to catch up with the guys from Kaizen who were in Cooktown overnight on changeover after their last trip. They finished up on a high yesterday with three fish including this one which was captured by Scott Kerrigan from Tradition nearby (above).  That brought their tally to an impressive 9 black marlin in 6 days, including one at 1000lbs on Friday.  (Thanks Scott for the great pic!)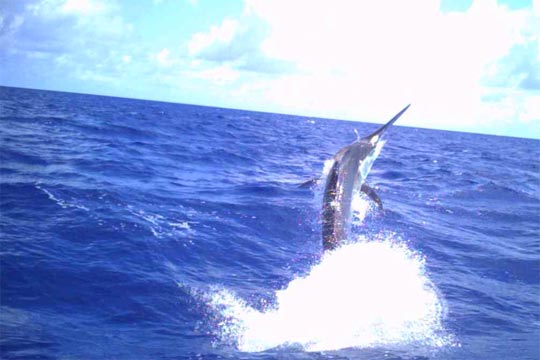 Kaizen's 700lb-er–thanks Lachlan for this photo!
From on deck, Connor tells me Kaizen had their second double header of the trip yesterday but lost one of the fish and that the 800lb-er they released on Saturday was also one of a double header (the second fish lost in that double also in the grander class).  Mick Kelly's 1000lb-er was released on Friday off Number 8 Ribbon and was their only bite late in the day and very worth it for Mick, his first grander and something he's been angling for for some time.  Good going guys!
Also fishing on Number 10 Ribbon, Capt. Dean Beech on Castille went two from three with a 600lb-er and 250lb-er and also pulled the hooks on another 400lb fish at the boat.  Capt. Deano also sent me this picture of their 950lb-er from Sunday. It's a photo from the video and just means we'll have to look forward to seeing the clip!
And another on Number 10, Shaka with Capt. Jared Weir also released two fish including this one (photo). John says photographer Chris Yeh, and the wireman Andrew Thorpy. Great shot!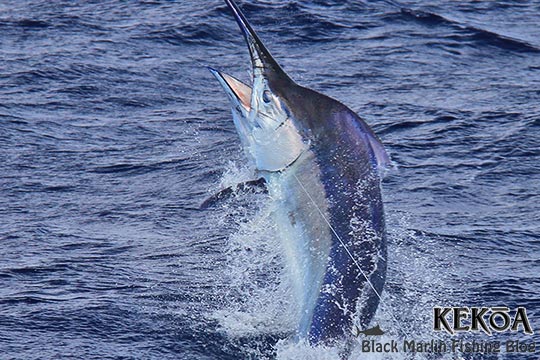 In the middle, on KEKOA we released this 700lb-er for Col (above) which has finally seen the birth of a nickname for Braden, aka Whippy (short for Whiplash). Lets see if this name sticks! Fishing nearby was Barry Alty and his crew on Mistress who released three, the biggest of which was also at that 650/700lb mark. 
And finally, several attempts later, my footage is uploaded. 1000lb black marlin for angler Jason Hassett on KEKOA. Enjoy!