There were some pretty good indications yesterday that the fish may be coming back on the bite.  The best indication being of course when you are catching them. Capt. Dean Beech on Castille III had another good Day (Day Reef) yesterday on the final day of the trip with the Baracat brothers.  They released a 700lb-er within minutes of putting the baits in the water and then finished it off with another big fish that Capt. Dean put at 950lbs later in the afternoon. A great way to end the trip!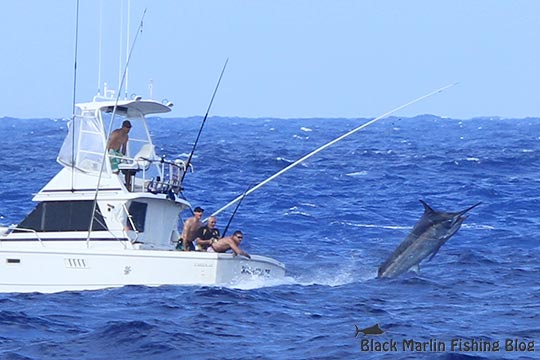 On Number 10, Heath on Kamikaze started at the bottom and headed north with the intention to spend the night in the anchorage at Lizard Island. Once they got to Second Corner however, they were waylayed by this fish.  With his Dad in the chair and two brothers on deck, it was a family affair, all suitably stoked of course!  Nearby, Capt. Hayden Bell on Release and Bob Hill's Maitai both released smaller fish.
Down the bottom I heard from Capt. Ian "Wobbles" Ford on Hot Shot who tells me that it's been a bit quiet the last few days and that there is a lot of boat traffic on the bank but that they are marking plenty of fish and i'ts looking good.  (Wobbles also told me that Thomas Right's 70kg bluefin tuna on 15kg line successfully went through as an Australian record. Congrats Thomas!)  Capt. Daniel Carlson on Little Audrey is back out this week with Vicki and friends on a girls trip. They've been snorkeling and bait fishing for the past few days but put the marlin baits out yesterday and were rewarded with two from three at 200 and 350lbs.  Capt. Tim Dean on Calypso is fishing 50lb this week and went one from one on a smaller fish.  And Cool Runnings are still going steady steady adding another fish at 350lbs at the top of the Bank yesterday as well.