Black Marlin @ Cape Bowling Green (Townsville)
Capt. Dean Beech on Maverick spent yesterday back at Bowling Green finishing up with 12-9-5, all black marlin including a double for 81 year old John Gilbert. Congratulations John!  Apparently its been many years of bad knees and hips dramas for John and he never though he would get back out fishing let alone catch two black marlin himself. The senior Gilberts were in Townsville visiting and celebrating their 60th wedding anniversary (congratulations on a wonderful milestone!).
Son Greg, along with Craig Singleton is the new owner of Maverick. And they are certainly putting the boat through its paces and getting plenty of action on the local Cape Bowling Green grounds. Capt. Dean says they are back out on the weekend.
Black Maralin & Sailfish @ Hinchinbrook (Cardwell)
Another catch up report this time from Hinchinbrook. I haven't heard from Garry since his last billfish report in late April but he told me that he's very happy to report that they are still out there. Fishing a little wider of Hinchinbrook this time on Sunday, Brett Ward tagged a black marlin on a lure that was having its first swim.  They worked the same area for a while but didn't find bait or another billfish so they moved a little closer to the reef. Then Garry was on strike when they experienced a rat pack attack and the result was the same as  seven weeks ago with only one small sail out of the mayhem! After the sail the fishing shutdown but Brett is back out there on his own in search of them again this week. Hope he's finding them!
Updated!
Brett sent me a note from his day out yesterday.  He tagged 1 little black from 2, busting off on a 15-20kg sail from gear failure
(Brett says he was at fault!)  He had to find warmer water out wider than they fished Sunday again. Great job solo Brett!
A photo of Brett swimming Garry's sailfish on Sunday: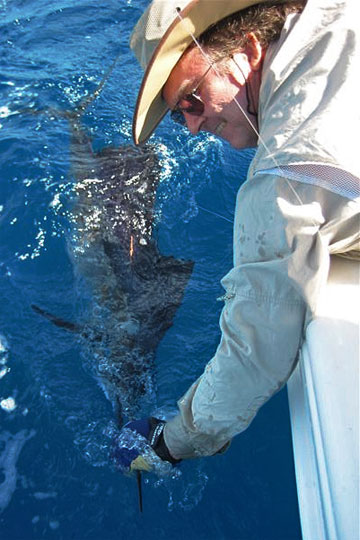 And a photo from Brett from his black marlin yesterday – he did pretty good considering he was holding the rod and camera at the same time!