The wind hasn't exactly stirred up a hot bite as hoped, but there have been a couple in the mix if you are in the right spot at the right time each day.
Yesterday that was Capt. Haydon Bell on Release who finished up another 5 days trip with two on the final day at 650 and 300lb (ending with 3 for the trip). Haydon said they also pulled the hooks on another nice one about 900.
Capt. Darren "Biggles" Haydon and team on Calypso caught two small ones yesterday.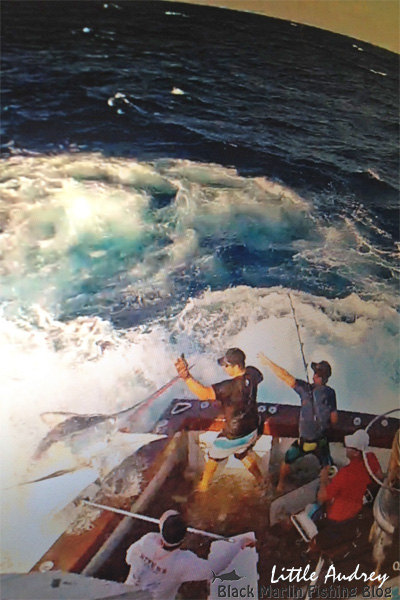 And Capt. Daniel Carlson on Little Audrey has also been experiencing a little excitement on the first two days of his trip with Craig and the boys. On the first day, Saturday, they released two around the 400lb mark.
Yesterday, after a quiet afternoon, it was action stations when a frisky 600lb-er jumped through the rigger (breaking a few wires on the way through) and ended up halfway over the covering board and into the boat!
Update: Photo from the cockpit cam – great action shot boys!