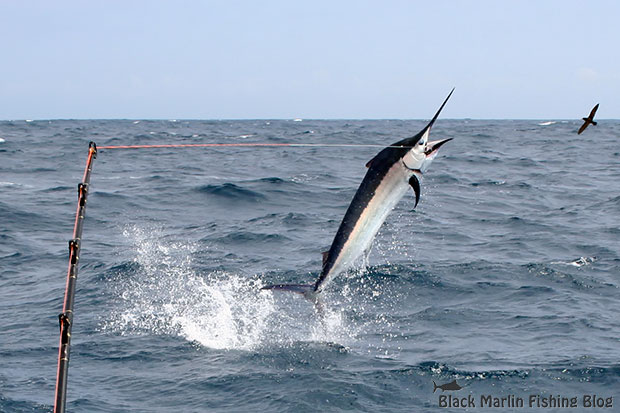 The Little Audrey Ladies' Day was held Monday and the conditions certainly agreed with the ladies. Plenty of fish reported with Janice Eggins on Althaldo taking out Champion Angler Capture and Heaviest Marlin with a 123.9 kg blue marlin on 24kg line. Janice again getting plenty of angling action (Janice took out Champion Lady Angler at Lizard Island last year as well.)
Although there were plenty more marlin raised and fought, noone managed to convert a second fish and Karen Fordham on Rowdy took out Most Marlin Tagged while her teammate Karen Perivolaris won Champion Tag & Release Angler with 1 black marlin and a dolphin fish.  Meanwhile Linda Riggs on Onsite took the Heaviest Other Gamefish award with a 10.4 kg dolphin fish on 6 kg line and Kerryanne Thompson on Milo took out the Most Other Gamefish Award with 5 dolphin fish for the day.
Also at Port, I had a report from Tim Mazaraki's Reel Diamond. Tim says they fished Monday for 2-2-2 blue marlin to 170kg in 26 degrees of water. On Tuesday the followed up with a first marlin for local superchef (Sandpipers) Luke Cameron – a black about 120kg.
Also finding a few on Tuesday, Brett "Changa" Chain who says that they are finding lure fishing the only real option off Port at the moment. Live baiting is virtually non existent and not producing and skip baiting is way too slow with current running at over 3knts.  Finding the fish is as always the deal breaker as they are not necessarily in the usual haunts.
Gold Coast
And the run of little blacks is still going strong on the Gold Coast with Capt. Brett Alty's Mistress tagging another 5 yesterday. Capt. Ross McCubbin's Lucky Strike also went 2 from 2.