There is some amazing fishing going on on the GBR right now across the entire fleet who are fishing… And then there are a few who just keep smashing it out of the ball park!
Capt. Corey Hard's Askari and guests, already on the trip of a lifetime simply due to the duration of their stay (30 days on the reef!) are having a dream trip for the fishing as well.  Corey added another five fish yesterday including one around 800lbs and another about 700 (one of which is this fish I took a shot of from nearby at top) and a 400 and a few small ones.  This takes their total, after 12 days of a 30 day Dreamin' On charter to 31 fish.  12 days = 31 marlin.  Such great fishing!
Another who is enjoying the run and enjoying his new engines, Capt. Daniel Carlson on Little Audrey. Dan didn't make it out from behind the reef until 3pm yesterday, courtesy of the wind and the waves and seeking a little relief bottom and bait fishing in the morning.  But when he did come out he was straight onto the fish catching a 250 and 900lb-er in short order.  Then later on he added another that he put at 950lbs!
All this is happening right up the top of the Ribbons on Number 10 with boats heading both ways – north to Lizard to spend a night in the relative calm, as well as those heading south and reluctantly into Cooktown on changeover.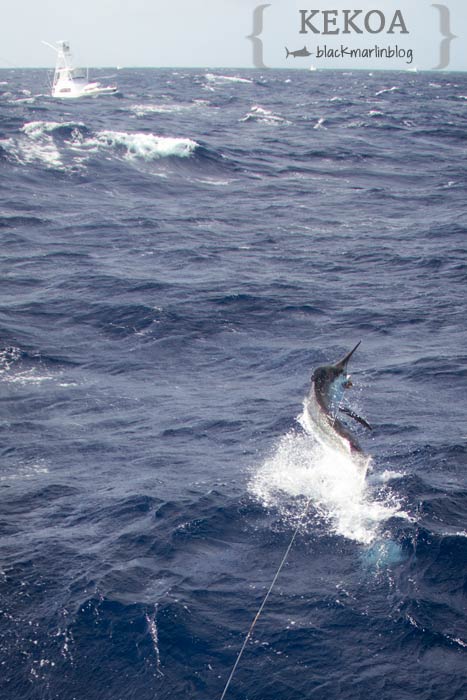 We saw Capt. Brett James' Mauna Kea heading north yesterday and I heard that he found them as well releasing three to 850lbs.    On KEKOA we were heading the other direction and released two from three to 450lbs and got the bite out of another big fish. Capt. Brett Goetze Amokura caught one in the midst of the hot bite and Capt. Tim Dean's Calypso also got two hot ones on the way down as well.
Not many reports from in the Middle although Capt. Dean Beech's Onsite left Cairns to fish the Bank yesterday.  Deano says that he marked some good fish and released two including a nice one at 900lbs at the death.  Nearby he reports that Moana caught a smaller model but it was mostly quiet for other boats at that end.