Big Marlin
I'm not sure if it's ironic, but seems quite amusing to me that having received the first BIG marlin report for the 2015 season, I can tell you that it was released yesterday off…..Townsville!
John McConkey (Maximus) tells me that he fished off Myrmidon yesterday to release a fish that he put at over 900lbs for angler Shane Vines after a 4.5hr battle on standup tackle. John says the fish was every bit as big as the two big-uns he had been a part of fishing on OB1 with local industry stalwarts Leigh and Peter O'Brien here and here.
It is usually this time of year, once the Townsville Billfish Challenge is done and dusted and the little fish have (theoretically) moved on, that the Townsville fleet seeks to take advantage of nice weather to head wide to Myrmidon.
Of course it was back in 2007 that the last/only grander black marlin was recorded off Townsville in September as well (30 Sept actually) that weighed 1109lbs. (And Gary Ryan reminds me too that it was September that Annie Ryan got her 800lb black at Myrmidon with Roger Kuhnel on deck and Gary steering the chair!)
Back up off Cairns and north, reports are still few and far between but more and more boats starting fishing every day. Capt. Tom Francis on Ultimate Lady reports that he is seeing a few, and catching a couple up to 500lbs.
Capt. Dan McCarty on Moana III also did an overnight out of Cairns and released two from three.
And I also received this pic from Capt. Steve Ahlers on Hellraiser who says fishing been a little slow  but they have been working hard to get the bite, getting one shot per day some times two.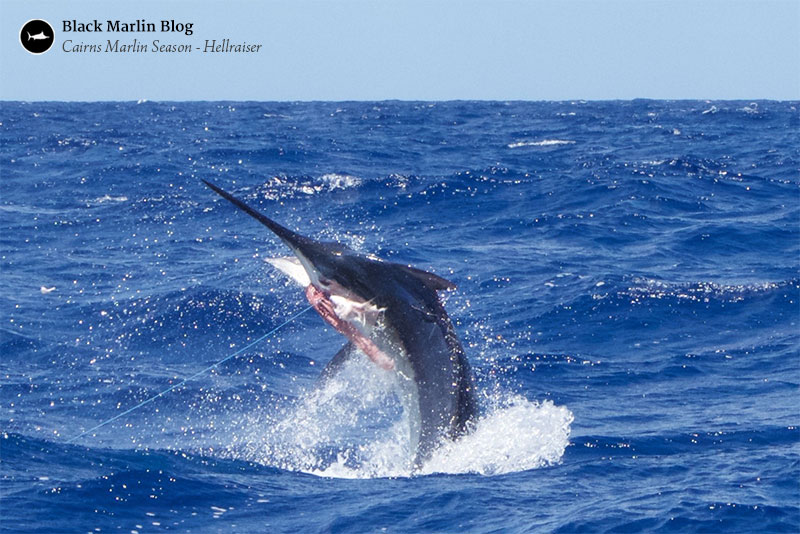 Juvie Marlin
And flat off the back of Monday's report, a week later and a bunch of fish have been reported off Yeppoon – a big thanks to Jeff Murray for the report!
Tackle World Rockhampton's fishing team headed off Yeppoon for a day marlin fishing yesterday and straight to a spot a local Yeppoon Charter operator had told them of having some success at a week earlier. Jeff tells me that after the first hour of trolling and 5 large spotty mackerel released (but no pointy noses in the area) they ventured further north and a bit deeper to a bottom formation shown on the chart. 10 mins of following the contour produced the first bite. Jeff's daughter Chloe, who is competing in the GFAA Junior Tournament, had the opportunity to tangle with her first billfish which was tagged and released just 10 mins later.  Congrats Chloe!
Throughout the day several more followed including another first billfish for deckie Ben Stirling, who was getting a coaching session on lure trolling.  The final stats were 13-9-5. Jeff says that all fish were caught on skirted lures, Blacks Snacks, Pakula's and Richter lures – it was an awesome day on the water for a couple of very happy anglers!
Also off the back of Hervey Bay Game Fishing Comp who are reporting club boats accounted for 6 black marlin tags in the 12-15kg range over the weekend – all indications the fish are heading south!
Update: And a report from Bite Me Marlin Charters who kicked off on their first trip for the light tackle season last week as well going 5-4-3 out of Yeppoon. They put Brucey from Muswellbrook NSW on to his fist marlin in 10 – 15 m with a few mack tuna thrown in the mix as well.