A great day at Linden Bank for the team on Capt. Casey Dent's Zulu going 7-6-5 black marlin with fish at approx 100lb, 300lb, 800lb, 900lb & 950lb. Amanda tells me that it was terrible weather but marlin action all day – awesome fishing! Photos above and below.
Capt. Dan McCarthy's Moana III is back in Cairns after a three day trip. Unfortunately not so up to the weather they played inside, jumped a sail off and caught one little black and baits and GT's.  Dan has an opening during prime dates 30 October to 2nd November if you are interested, send Dan a message.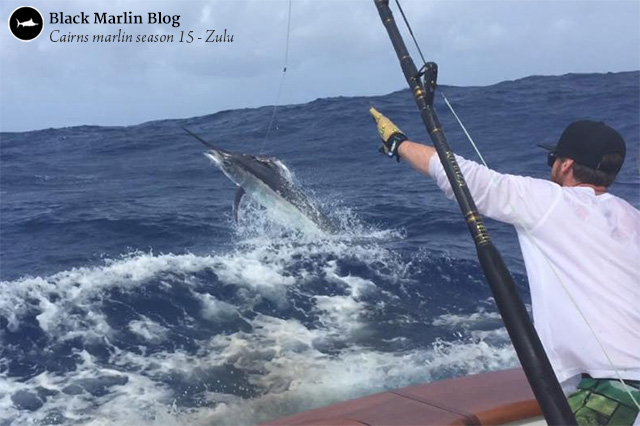 Sunshine Coast GFC Spring Shootout
Ben Campbell Building Group 2015 Spring Shootout
Club Captain Brent Higgins reports that while the Saturday weather was terrible, Sunday was glamour and lots of blues have shown up setting the scene for a good bite.
In the tournament, it was Colin and Kylie Hombsch's Reel Action that stole the show wining with 5 blues and a sailfish for the two days of fishing – with Colin & Kylie Hombsch and Mick and Nicki Reeve on board.  Runners up were the team on board Chaos.
The final stats were Overall stats for were:
– 62 billfish strikes (blue, black, sailfish & striped)
– 15 other species strikes
– 55 hookups
– 12 blue marlin tagged
– 3 sailfish tagged
– 1 blue marlin weighed 115.8kg (tail wrapped during fight)
– 2 mahi mahi
– 1 Spanish mackerel
– 12 mac tuna
And the winners and grinners were:
Reel Action – 9000 points
Chaos – 4500
Champion Anger Overall – Kylie Hombsch
Champion Male Overall – Tim Graham
Champion Male Light Tackle – Tony Byrne
Champion Female Light Tackle – Charlotte Ditchfield
Champion Junior – no point scoring juniors however they all had a blast and received a participation price from Pakula Lures.