A very good showing for the tournament over the weekend especially considering the weather in the leadup, with 51 boats and 215 anglers competing.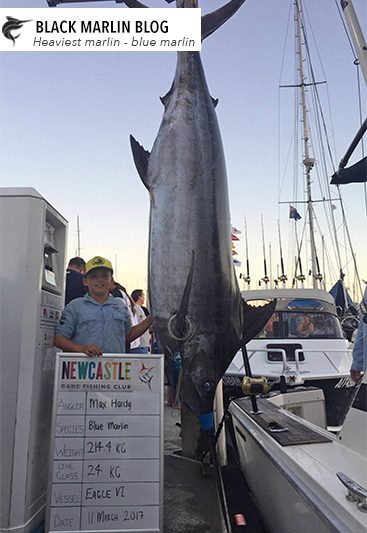 Overall 49 marlin were tagged – made up of 17 black marlin, 26 striped marlin and 6 blue marlin as well as 6 sharks and 6 other gamefish species.
On the Capture side, 6 blue marlin and 4 striped marlin were captured with the Heaviest Marlin trophy going to Junior Angler Max Hardy on Eagle VI with a blue at 214.4kg (photo) as well as a mako and 3 tiger sharks also weighed, the Heaviest Shark the 415.6kg tiger for Matthew Baldwin on Blood Bank.
Congrats to all who competed!
Other major prize winners included the NPSGFC team on Born Free who took out the Champion T&R Boat prize with 6 from 6 (!) ahead of runners-up Newcastle GFC's Weapon. On the Capture side again, Newcastle GFC's home team Blood Bank took out the top gong.
Great photos above and below from Luke Henkel!