Exmouth leading the way!
There will be much more on this fish to come but a huge congratulations go out this morning to the team on board Capt. Eddy Lawler's Peak Sport Fishing who weighed Australia's first official/legal grander blue marlin yesterday at Exmouth.  The fish weighed in at 1089lbs and will also be a pending Australian line class and All Tackle record and should take the kitty (which I believe is estimated at about 25k) in the Exmouth Marlin Cup as well!  Fight time was 3.5hrs and the fish was caught on 130lb standup.
From Wes Jones on the leader: "Clay Hibert was the angler (60 kg stand up) and she was switched off a Bonze Violater, Eddy at the wheel, Leigh Freestone was the gaffman and myself (Wes) on the wire. Leigh's partner Hayley got some ridiculous photos all the way from tease to bite to wire to gaff (which we will see soon once the team have a chance to wake up!). The fish was a full legal capture and pending new Aussie record! The measurements were 145" short, 77.8" girth with a 22" tail wrist".
What a start to 2018!
I think given the number of days these guys spend on the water and the number of blues they catch, its very fitting that this fish takes the first legal grander blue marlin title!
CONGRATS to all and I'm looking forward to hearing more. I suspect a few sore heads over that way this morning (when they wake up).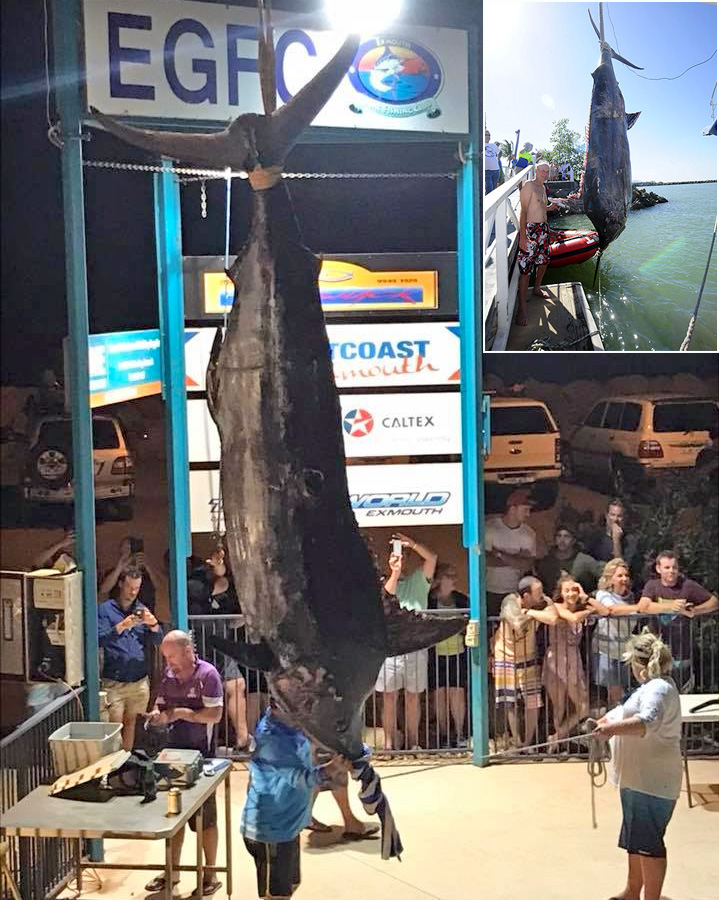 Of course, not taking anything away from this catch but it is worth noting that its not Australia's first grander blue with that honour going to the team on board Capt. Tom Francis' Ultimate Lady back in 2008 who weighed a 1080lb blue marlin in Townsville that was caught off Mellish Reef (well inside Australian waters). That fish was caught on 80lb line in an hour 40 min fight (but unfortunately damaged under the boat coming up dead and weighed on the water making it non IGFA legal).
Last year Cairns went close to capturing the crown with a 911lb blue marlin weighed by Capt. Daniel McCarthy's Moana III, also a pending record and IGFA legal.
Pic via EGFC of the blue being weighed last night with inset of Ultimate Lady's blue above.
GC to Coffs Junior Grand Slam!
Congrats to young Reef James who caught his first Grand Slam yesterday (blue, black and stripe). What a way to start the year for the youngster! Fishing on Mauna Kea from the Gold Coast to Coffs Harbour and on their way to Sydney, with father Brent and Grandad Perry they had 6 bites and caught the right 3!
Also SEQ Hot (and cold, and then hot again)
Catchup reports (which I shared on FB over the holidays) with Mooloolaba GFC's TakkaChee going 6 from 8 Friday while Wrack Off went 4 from 12 and Reel Lady tagged 1 as well. Jamie reported that the marlin have shown up on our inshore grounds but unfortunately it was a different story the next day with only the 1 shot but no hookup!
Likewise catchup from the Gold Coast Capt. Ross McCubbin reported blues, blacks and stripes all present in the last few days of 2017. Hot Shot had a top day Friday going 4 from 11 blues (soft bites) and raising 3 stripes as well!
Yesterday –> Gold Coast report via (and with big thanks to) Jesse Hill who fished out of the Tweed onAdam Argus's Redonkulous. They went 1-3 on blues with this sub 40kg model. Nx Level tagged 2 close by while up to the north it fired with Old Mate tagging 3 from9 and seeing 3 more. Caboom finished 3 from 6 late in the day. Aquarius fished in between and finished 2 from 8 being a blue and stripe. Lots of other boats with multiples!
Jesse says there has been a few 40kg fish in the last two weeks.  Would love to know where the baby blues are coming from!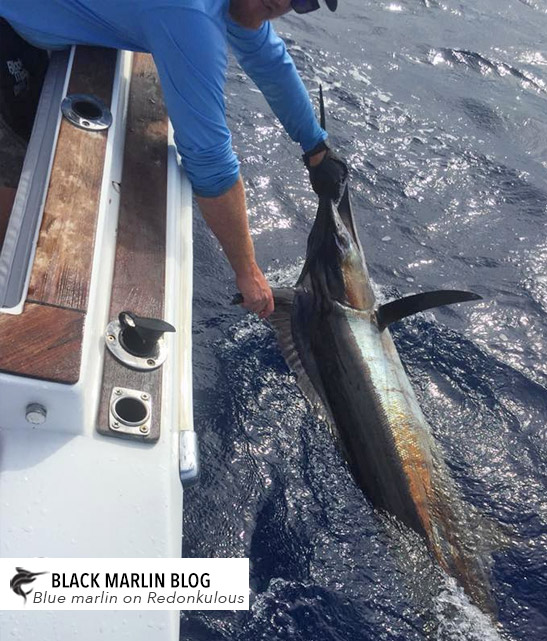 Anthony Dimech had his boat Big Banana up at Fraser for the past week with shots every day but no success on converting until yesterday off the Gold Coast a first blue for Andrew Saba (pic).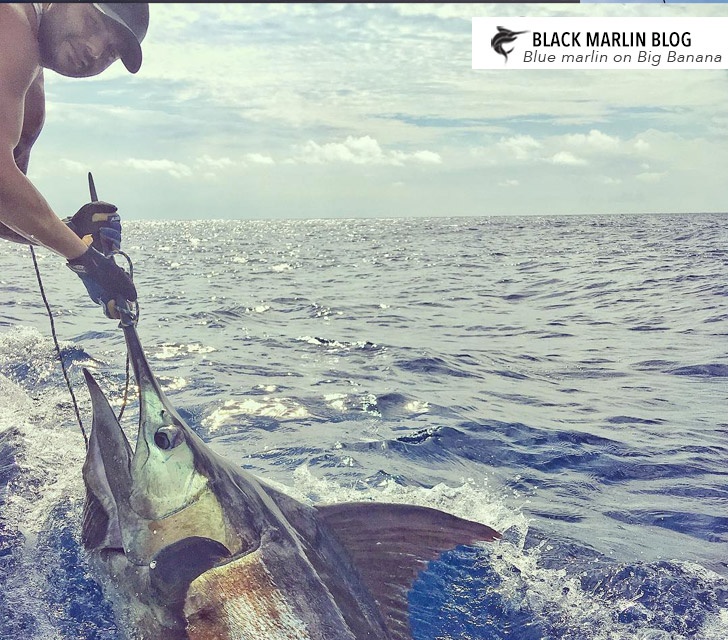 Meanwhile good fishing on blacks and stripes further down the coast too. Reports to come!
Dreamin' On 2017 Tour
And the first recap video from the big three boat tour is live! Check it out here.
We are truly grateful for 2017. The Team set a new record for a 30 day charter with 147 Black Marlin caught with 25 being over 800 lbs. Dreamin On weighted a Grander 1035 and Marlin 4 Miles released a Grander with David. And our MVP goes to Hardcore (Askari) who has caught over 144 Marlin for this season. There will be more video coming but enjoy this wrap-up video from our epic 30 days.