Joe sent me this footage from Moana's 1100lb-er for Andrey during the tournament. Joe spends time on Moana with Andrey and Capt. Dan each year and is very handy on the camera – great footage Joe!
Two reports from fishing yesterday to the south at Linden Bank with Capt. Jared on Shaka reporting another good day on the water with two fish including one that he put at 900lb!  Jared says that it was a good fish and fought hard and gave the boat a good workout in reverse.  This is a picture of the second fish for John at 500lbs taken by Rhys on the wire with 'chest cam'.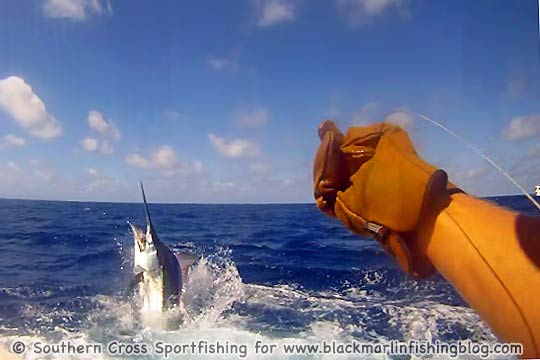 Also fishing the bank, Capt. Tim on Tradition released two at 300 and 600lb (photo below) for Greg and lost another at 250lb on the double.  Tim says there was a bit more action at the bank and the water cleared up nicely overnight. The water has started to clean up in the middle as well.