With some big fish showing up over the last few days it was just a matter of time until we had the first report of a successful grander black marlin release for the Cairns giant black marlin season for 2014. And it came just after lunch yesterday from Capt. Tim Richardson's Tradition with a fish that Tim put around 1050lbs released after a 2 hour fight.
The big fish was one of three bites for the day and the only successful release (jumping off two smaller fish), but certainly the one that counted!
Tim tells me he is fishing David McCallum and his wife Tammy from the Gold Coast on their first ever trip to Cairns to find a big one.  They were fishing at Linden Bank where the fishing has been good the last few days and had the early bite in the day on the run out tide as has been most of the action over the past few days.  He marked a couple of fish 200′ down and up she came on the bluefin tuna. She had a big lunge and missed the bait on the first inside-out bite, and then spun around to try again. This time she didn't miss!
The fish did a big jump after eating the bait and then just headed out to sea for the next 45 minutes before they had her up close to the surface. At this stage they could see that the leader was around her mouth and lassoed behind the dorsal, which would explain why she was so tough with maximum drag.
Finally, after 2 + hours at sunset, they finally got the fish to change its direction and started to get some angle and got the double out of the water, and then Paco got the leader on his first black marlin (and a pretty nice one for your first!) which Tim says was a real nice big fish over 1050 and very thick all the way through. A really great fish that gave Dave a real tough fight and one he will remember forever, and great outcome for everyone with the fish swimming off with a TBF tag.
Congrats to David and Tim and crew. What a great start to 2014!
(I didn't have any other reports of fish from yesterday from the other boats fishing.. it is still early!)
And so because I think this is quite early in the season, I did a look back through my old blog reports and notes for the first grander reports for the most recent seasons which I thought might be of interest to you all (you're welcome ;-)). And here are the results:
(This is by no means gospel, but rather just what I have recorded.)
2013 – Oct 1 (Capt. Bill Billson/Viking)
2012 – Oct 7 (Capt. Bill Billson/Viking)
2011 – Sept 22 (Rick Eustace – Billfish)
2010 – Oct 10 (Capt. Tim Richardson/Tradition)
2009 – Oct 11 (Capt. Peter B Wright/Sea Baby IV)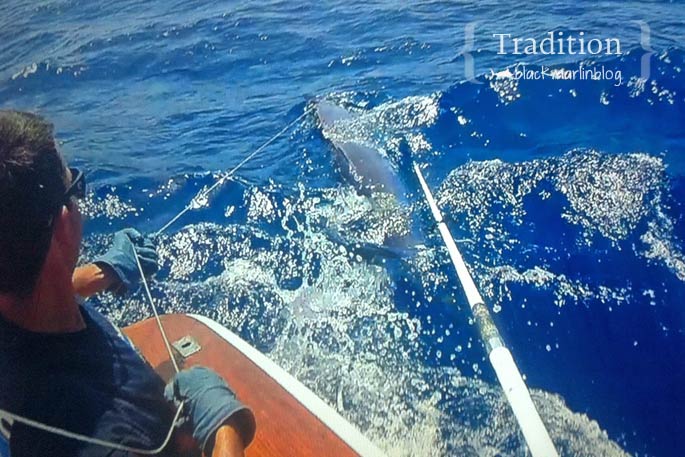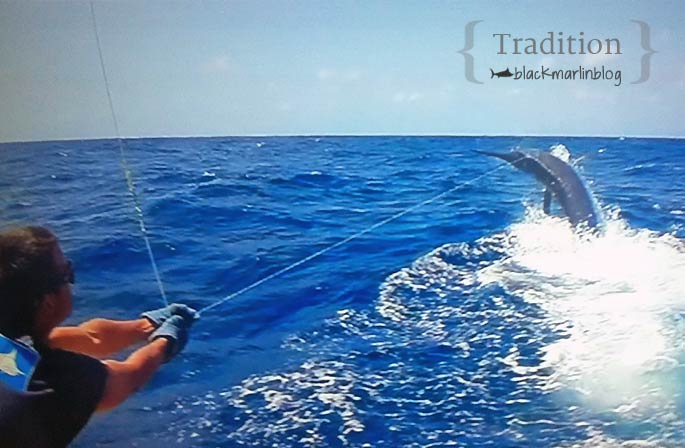 Photos are still from the video footage which we look forward to seeing soon!